The Ultimate Mushroom Vegan Burger and Blended Mushroom + Beef Burger
It's officially National Grilling Month and we're here to help you plan a delicious cookout! As more people are becoming vegans, flexitarians or simply eating healthier, your guests will appreciate a few dietary options at your next cookout. These two burgers that feature our shiitake and oyster mushrooms are sure to please the palettes of any vegan, mushroom lover or anyone who just loves a good, juicy burger!
The Ultimate Mushroom Vegan Burger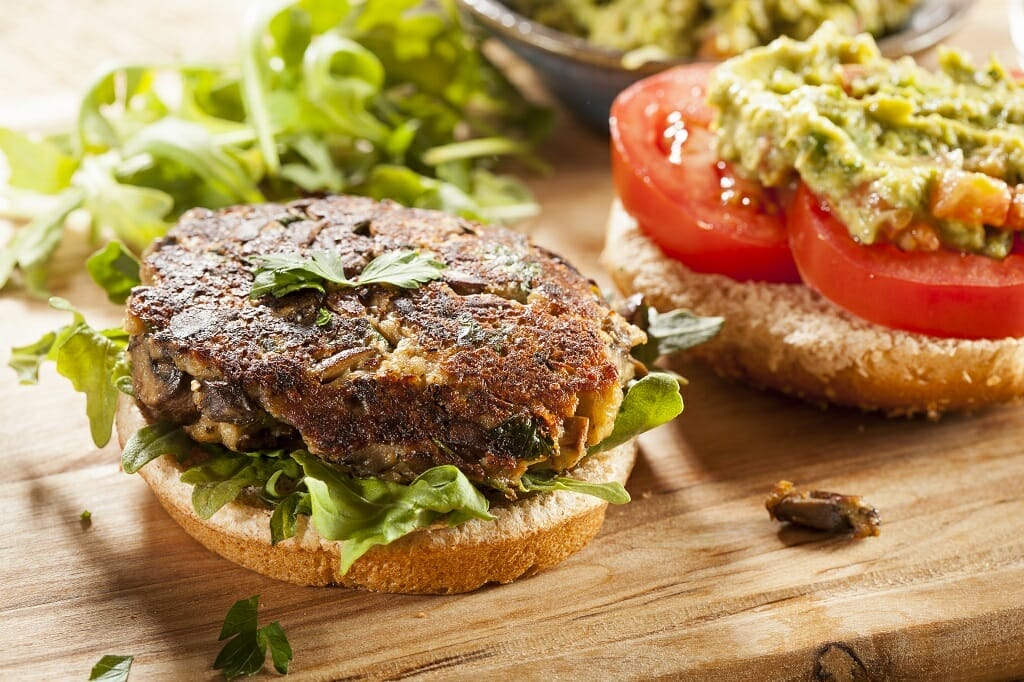 Ingredients:
16 ounces of diced shiitake and oyster mushrooms
2tablespoons avocado oil or extra-virgin olive oil
½cup chopped walnuts
¼cup ground flaxseed
2 cups of sticky rice (white or brown)
1cup panko bread crumbs
3 garlic cloves – minced
2/3 cup of chopped shallots (you can substitute onions)
2tablespoons tamari
2tablespoons balsamic vinegar
½ teaspoon maple syrup
½teaspoon paprika
2teaspoons hot sauce or sriracha
Vegan Worcestershire sauce
Salt and pepper
Nonstick cooking spray
Hamburger buns
Toppings of choice:

Avocado
Preferred lettuce
Tomatoes
Vegan Mayo
Ketchup
Mustard
Instructions:
Heat the avocado or olive oil in a medium skillet over medium heat.
Add the shallot or onion and sauté until soft for approximately one minute.
Add the mushrooms and salt, then sauté until browned
Stir in the tamari, vinegar, and maple syrup. Stir, reduce the heat, then add the garlic, paprika and hot sauce or sriracha. Remove the pan from the heat and let cool slightly.
Combine the sautéed mushrooms, walnuts, flaxseed, brown rice, and ½ cup of the panko in a food processor and pulse to combine. The mixture should stick together when pinched.
Place the mixture in a large bowl and fold in the remaining panko.
Form the mixture into patties and place in the fridge for an hour.
Preheat a grill to medium-high heat.
Brush the patties with olive oil and spray the grill with cooking spray.
Place the patties on the grill and use a spatula to press down lightly.
Grill for 7 minutes on the first side, flip, and grill for another 7 minutes on the other side or until well-charred and cooked through.
Plate the patties and brush with Worcestershire sauce and toppings of choice.
Blended Mushroom and Beef Burger
Ingredients:
½ peeled and diced cooked sweet potato
4 ounces of shiitake and oyster mushrooms
1-pound ground beef (20 percent lean)
1 large egg lightly beaten
2 teaspoons cornstarch
Kosher salt and freshly ground black pepper
1 bunch scallions (about 6 small) or onion
1 medium poblano, halved lengthwise, stem and seeds removed
1 tablespoon canola oil, plus more for the grill grates
Hamburger Buns
4 slices or cheese of choice – Monterey jack or pepper jack cheese
1/3 cup mayonnaise
Finely grated zest and juice from lime
1/4 cup pickled jalapeno slices
Sliced red onion
Lettuce
Instructions:
Place sliced scallions in a small bowl and stir in the mayo, lime zest and juice, salt and pepper. Set aside.
Preheat grill to medium – high heat
Use the food processor to chop the sweet potato then transfer to a bowl.
Add ground beef, egg, cornstarch, salt and pepper to the sweet potato and mix.
Form the mixture into four patties and season each side with more salt and pepper
Place the scallions and poblano in a bowl and toss with oil.
Grill the scallions until lightly charred and turn halfway with tongs then place on a cutting board.
Grill the poblano and turn until charred and tender – this usually takes up to 10 minutes, then place on the cutting board.
Use oil to brush the grill grates and place the patties on the grill – uncovered.
Once the patty has grill marks and cooks on one side (usually about 4 minutes), flip the patty and cook on the other side for approx. 2 – 3 minutes. Add cheese, then melt.
Buns can be grilled or placed in a heated oven until slightly charred.
Spread the mayo mixture on both buns, then add the patty.
Top the patty with ¼ of the sliced poblano, jalapenos, lettuce and any other preferred toppings.
ENJOY!