Shiitake Mushrooms 3 Ways: Sautéed, Fried or Roasted
Whether you're entertaining a crowd, looking for a savory side to complement your main dish or craving a hearty snack, shiitake mushrooms are a perfect solution.
Shiitake mushrooms are flavorful, nutritious and incredibly versatile, offering endless ways to prepare them. In fact, mushrooms can be enjoyed grilled, air fried, caramelized, roasted, deep fried, baked, sautéed and even raw!
Although we love our shiitakes any way, here are our top three easy recipes to prepare them as a snack, an appetizer or a side. For mushroom dinner ideas, see our other recipe posts!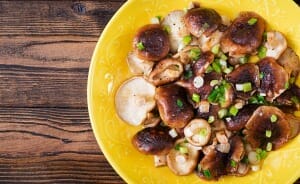 Sautéed Mushrooms
Ingredients:
1 lb. shiitake mushrooms
½ tablespoon olive oil
½ T butter
¼ cup diced onion
2 cloves of minced garlic
5 – 7 sprigs of thyme
Salt and pepper
Directions:
Add butter and oil to a pan and heat over medium high heat.
Add onion.
Add the mushrooms to the pan and toss with olive oil mixture. Do not stir.
Cook 2 minutes per side.
Add garlic and thyme.
Cook an additional 3-4 minutes stirring occasionally until cooked.
Season with salt & pepper to taste.
Fried Mushrooms
Ingredients:
1 lb. shiitake mushrooms
1 cup flour
1 TB seasoned salt
Vegetable or canola oil to cover an inch or more in a pan or enough oil if you are deep frying
Fresh herbs of choice
Directions:
Combine flour and seasoned salt in large bowl or zip-lock bag
Pour mushrooms into flour/salt mixture and stir or shake to coat.
Heat oil in the pan over medium heat if pan frying. If deep frying, heat oil to 375.
Test to determine if the oil is ready by sprinkling a little flour in the oil. It's ready when it sizzles.
Place mushrooms in oil and fry for 2-3 minutes until they turn to a golden brown.
If deep frying, fry for 2-3 minutes or until golden brown.
Remove from oil and drain on a plate topped with paper towels to soak up excess oil.
Serve warm with garlic butter on the side, buttermilk ranch to dip, or enjoy plain!
Garnish with fresh herbs of choice.
Roasted Mushrooms
Ingredients:
1 lb. shiitake mushrooms
2 T melted butter
1/8 cup olive oil
2-3 cloves of minced garlic
Kosher salt (to taste)
Ground pepper (to taste)
2 T chopped parsley, chives or other fresh herbs
Lemon juice (if you prefer)
5 -7 sprigs of thyme or rosemary, or half and half
Directions:
Preheat oven to 220°C/450°F (200°F fan).
Toss mushrooms with melted butter, oil, garlic, salt and pepper in a large bowl using a rubber spatula.
Spread into a cast iron skillet or place on a tin foil lined baking tray and roast for 25 minutes – do not toss or turn.
Remove from oven. If using lemon and thyme/rosemary, push mushrooms together onto one side of the tray, drizzle with lemon, sprinkle with thyme/rosemary and toss. Serve immediately.